Fabrication Capabilities
The equipment employed here in our shop at Shamrock Plastics are some of the most technologically advanced in the industry, allowing us to provide only the best fabrication capabilities in services, such as line bending, laser cutting and engraving, solvent welding and CNC routing.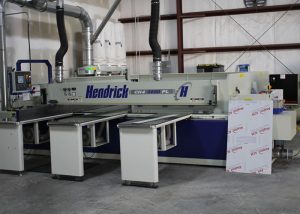 Our CNC panel saw is a computerized Hendrick CH4 3200PL: the ultimate solution for power, flexibility and accuracy in the plastics industry. This high-power saw can cut sheet sizes up to 10-by-10 feet and four inches thick with maximum speed and accuracy for an improved edge finish. The saw features a Windows-based controller, which controls the saw's blade RPM, blade cooling, 25 HP main motor, alignment and guide, and the magnetic strip for pusher positioning. Shamrock's line bending equipment utilizes a thermoforming process, or forming a thermoplastic after it's been heated until it's soft and pliable to be able to bend it. To help bend the material at the perfect angle, we'll use jigs, formers, line benders and strip heaters.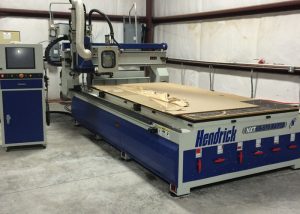 Our NXT38-510 RATC8 CNC Router, also by Hendrick, features a 60-by-120-inch worktable space and six independently operated manual vacuum zones for powerful zoning when cutting small parts.
The equipment here at Shamrock Plastics makes us an area leader in this industry. Plastic fabrication projects require specialization, low-to-high-volume production capability, consistency, high cut and smoothness quality. Our system is precise and operates on the ever-changing demands of our clients.
Come in and visit our shop to find out how we can help you on your next plastics project – from your initial idea to design to production and distribution. Or Contact Us here for an appointment today. Shamrock Plastics will deliver the job on time, on budget – and above your every expectation.